This article is about how you can livestream a funeral and how to set it up for viewing directly on the Memorial Page.
Go to Youtube.com and log in to your account.
If you do not have an account on Youtube.com click this link and create an account:
https://support.google.com/youtube/answer/1646861?hl=no
# if you have less than 1000 subscribers to your YouTube channel then you cannot live stream from your mobile phone, but only from your PC. This article is therefore about how to use your PC to live stream a ceremony. You may want to have a webcam (connected to a PC) on a tripod to simplify streaming.
# Important: YouTube does not support live streaming in Firefox, so we recommend Chrome as a browser.
When you are logged in to Youtube.com, click on the Camcorder icon in the upper right and select "Go Live".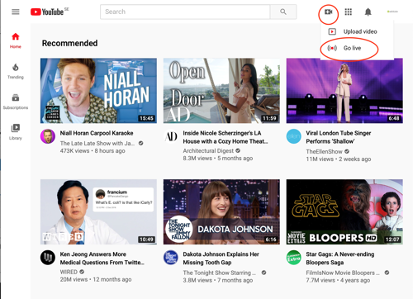 If you have not previously verified your YouTube account, you will be prompted to do so now. This is easy to do with a code sent to your mobile phone, but it can take up to 24 hours for verification to be verified.
Furthermore, click on the Public button and select Unlisted here.
This is so that live streaming will only appear on the memory page and otherwise not on YouTube.
After giving the live stream a name and clicking "No, it´s not for kids" - then click "Next".

A window opens where you click Share and then Embed Koden som da kommer fram er den som skal limes inn på minnesiden. (Se hvordan lenger ned i artikkelen). Når du er klar, lukk vinduet og klikk på go live og livestreamingen starter.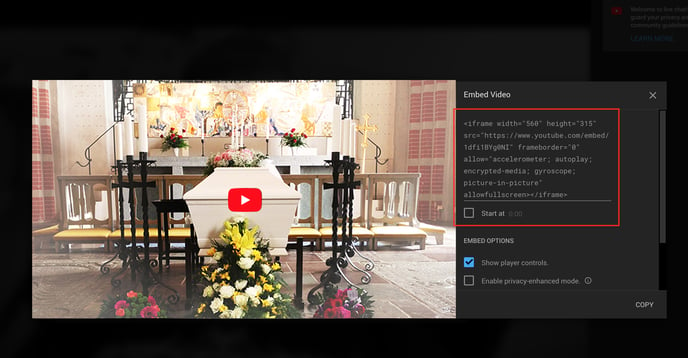 How to paste the code on the memory page?
Click Gallery and select Add Video / Audio File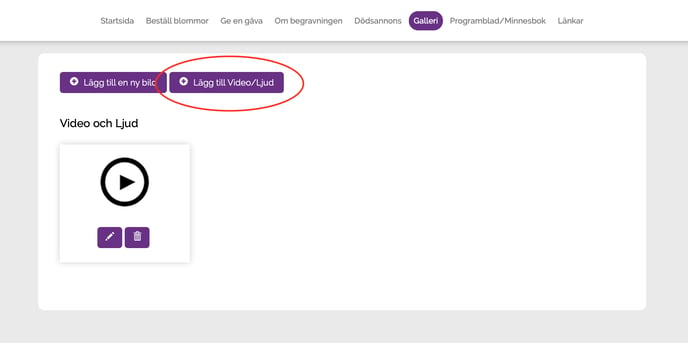 Paste the code you received from YouTube into the Embed video or audio file field. Fill in the title and description and click the Embed video or audio file button.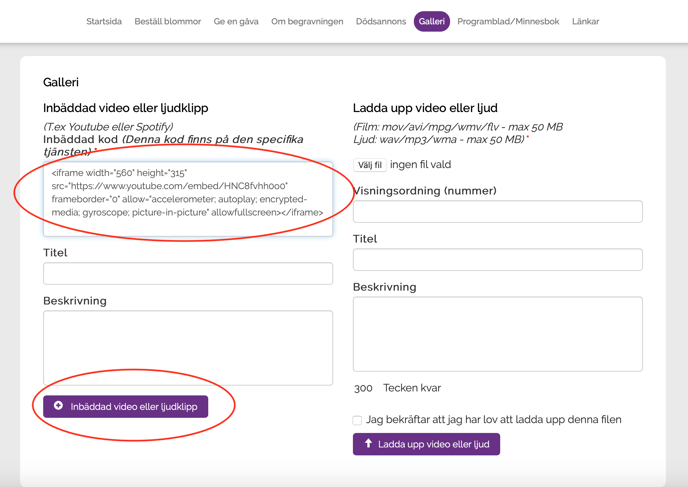 The live streaming is now available via the Gallery on the memory page and becomes visible when you click the white arrow with arrow / play symbol.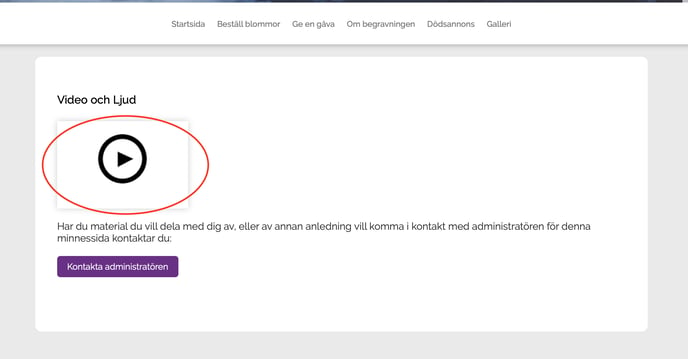 How to link to the live broadcast instead of displaying it in the "Gallery"?
You can also choose to link from the memory page directly to the live broadcast on YouTube. Then do the following:
Follow the explanation above until you click Share. Instead of clicking Embed, copy the code that appears in the following window instead: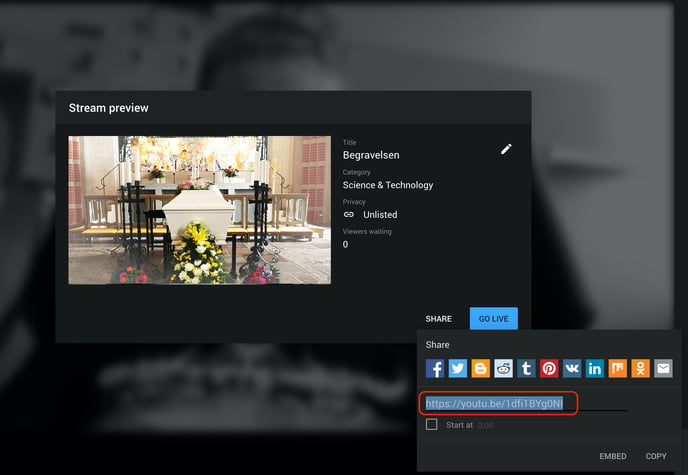 Copy the code and log into the memory page by clicking the "Edit Memory Page" button.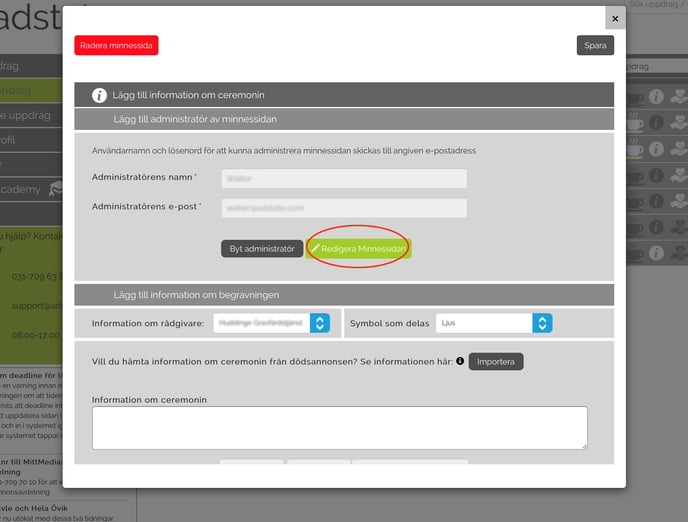 Go to the "Links" tab and click "Add New Link."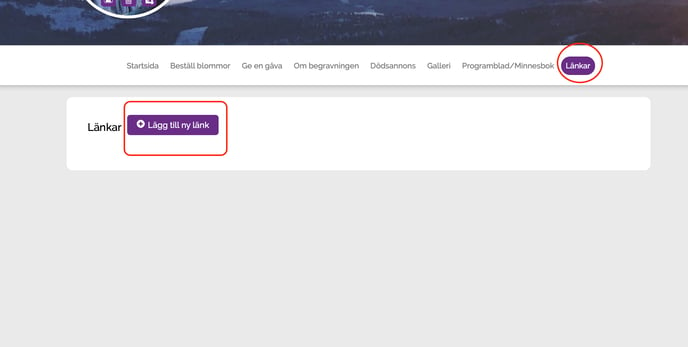 Paste the copied link from YouTube here and enter a "Text for the link" and a "Description". Click "Save."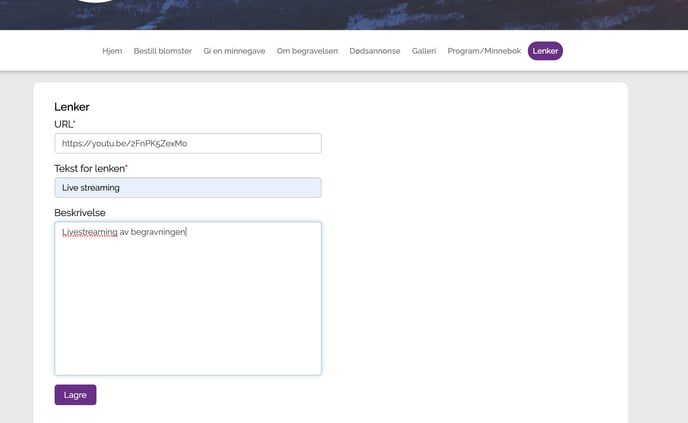 Log off as an administrator.
A clickable button with a description becomes visible. You can then click there and follow the live streaming.
Finally important information!
Live streaming of burial ceremonies
Live streaming is an offer that can be very relevant in the future, and you need to know a few important points.
TONO-fee
Live streaming of ceremonies is exempt from the TONO fee. This applies to all use of song and music. Edited recordings, releases, and memory concerts are not exempt.
Privacy
Privacy law applies. When a ceremony is live-streamed, we must have the consent of all those participating in the front, and a sign is put up at the entrance that the ceremony is live-streamed.
Live streaming is the transmission of audio and film over the Internet, so that people elsewhere can follow the ceremony live. The publication can be in a private group or publicly on the agency's website. The agency informs the players in advance and puts up information signs at the front door. There are no restrictions on live streaming rights. This is quality assured by the agency.
For further help and support of YouTube services:
https://support.google.com/youtube/?hl=no#topic=9257498